ABOUT BUSINESS HUMORIST TODD HUNT
Todd Hunt looks like a pleasant, buttoned-up corporate type. But when he opens his mouth, audiences reel with laughter. His stories and examples, delivered with the sly wit of a seasoned comedian, stick with you long after his program.
As an executive at Ogilvy & Mather, one of the world's largest advertising agencies, Todd learned the "inner workings" of communication. Additional jobs with an insurance administrator, direct marketing company and ad department of a major retailer confirmed what he had suspected all along — we all mess up communicating!
Then he started his own successful marketing agency in Chicago. Working with trade associations, retailers, non-profits and financial companies, Todd sold insurance, credit accounts, trade shows, seminars, theater tickets, memberships and other products and services to consumer and business audiences.
One day he discovered that people were hungry to hear his funny stories about sales, customer service, leadership and change, which he gathered during his business career. Now a professional speaker, he inspires hundreds of groups each year to improve communication and success.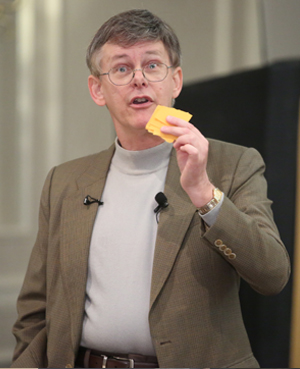 "The perfect balance to a heavy business meeting. You'll be a tough act to follow next year!"
—International Association of Administrative Professionals
Frequently asked questions about business humorist Todd Hunt
1. Is he funny?
Yes. After a presentation for a funeral directors convention (true), a woman came up to Todd, grinning from ear to ear. "You are so FUNNY! I haven't laughed that hard in my entire life. You should be on Jay Leno! Have you ever tried out for the Jay Leno show?" (Todd didn't have the heart to tell her he was out of town when the Jay Leno tryouts came through.)
2. Is he educational?
Yes. At the same convention another woman shook his hand warmly and purred, "I really enjoyed your seminar." The first woman said it was Jay Leno-funny. This woman said it was a seminar. Both heard something of value and both were happy.
3. Is he really educational?
Yes. Todd's program has been approved for Continuing Education credit for dentists, accountants, funeral directors (we're not making this up), meeting planners, human resources and other professionals.
4. And funny too?
Yes, although Todd is not a comedian. He's never performed at a comedy club (in fact, he's attended only four comedy clubs in his life as an audience member). His background is business -- marketing and advertising with Ogilvy & Mather, plus an insurance administrator, retailer and his own company for 11 years. There's so much natural humor in business that he doesn't need to write jokes. The humor keeps people's attention, while the examples teach valuable communication lessons.
5. Is his humor clean?
Yes. Since Todd doesn't depend on jokes to convey his points, everything is clean...and based on real life.
6. What, exactly, does he do?
Todd talks -- sharing funny, true examples of how we all miscommunicate with customers and coworkers, and how we can fix it to become more successful. Funnier than a business speaker; more informative than a comedian.
7. Where would he best fit in our event?
Todd is an ideal opening session speaker, because he gets people laughing and energized for the meeting that follows. He also does luncheon keynotes and closing sessions. (If you're looking for a program that's pure entertainment with no message, a better choice might be a singer, magician or comedian.)
8. How long does he speak?
Todd's typical keynote is 45 minutes to an hour. Sometimes shorter, if the president's remarks run over, the new member initiation takes longer than expected, the session starts late due to construction on I-95, and so on. Continuing Education programs usually run 90 or 100 minutes. He can adapt to your schedule (and he always ends on time, to keep your agenda on track).
9. Can he present virtually?
Yes! Todd's keynote is adaptable to a virtual presentation — with video clips and graphics that make it more interesting than just blabbing in front of a computer. It's as much fun as Todd in person!
10. Does he cover other topics in addition to communication?
Todd sticks to communication because that's what he does best and it fits nearly every meeting theme. Leadership, teamwork, sales, customer service -- excellent communication is key to all these areas. And we all can improve.
11. How much is it, and how do we book him?