FREE SMILE-GUIDE FOR OVERWORKED MEETING PROFESSIONALS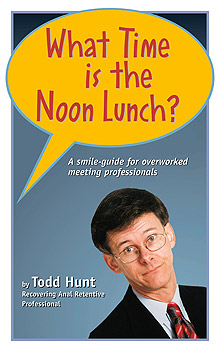 How to tell if you're a meeting planner?
You add a 10% walk-in factor for your family Thanksgiving dinner.
What's a committee?
Group of well-intentioned volunteers who prevent you from doing your job, bless their hearts.
How about the least-requested speaker topics? 
Haiku for Dummies and What Color Is My Cheese? top the list.
This 16-page fun guide is yours free, to help you get through your next event without losing your mind!